January 19th, 2011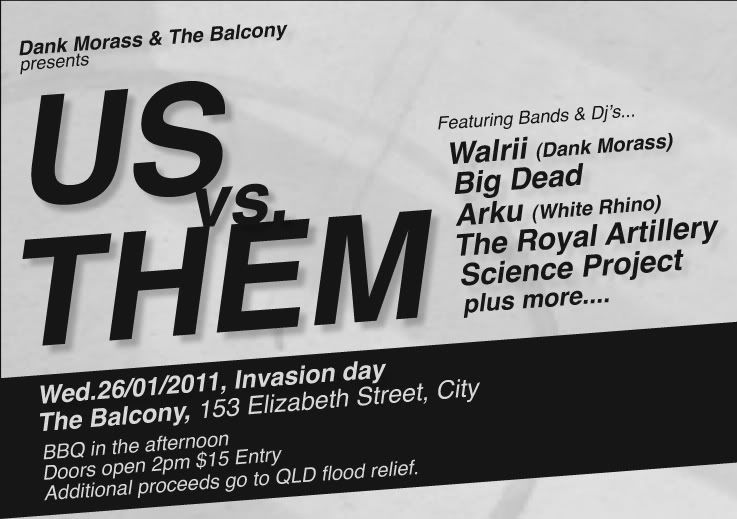 Dank Morass and Balcony 153 Presents:
US VS THEM this Invasion Day!
Wednesday 26th Jan 2011 – Doors open 2:00pm – $15 entry
…
3 bands and 3 DJ's are set to joust it out in a huge day of genre crossing mayhem!
Featuring DJ's from the acclaimed Dank Morass and White Rhino crews and some hot up&coming local bands, this is one shindig you don't want to miss..
With an OZ BBQ, home-made pies and mad drink specials all day long, leave your your wading pool in the cupboard and get some breeze on The Balcony- 153 Elizabeth Street in the City.
DJ's on the day:
* WALRII (Dank Morass)
* ARKU (White Rhino)
* SCIENCE PROJECT (Dub Temple Records)
Bands Include:
* THE ROYAL ARTILLERY
* BIG DEAD
* OWL
Be at the exciting new venue, The Balcony on Australia Day for a relaxing afternoon and electric evening complimented by Brisbane's finest bands and DJ's covering sounds to please any ears!
Categories: Dank Morass, Events, Friends, Walrii | Tags: Arku, Big Dead, Owl, Science Project, The Royal Artillery, Walrii | Comments Off on Us vs Them 26/01 @ The Balcony