July 31st, 2011
Electronic music purveyors have long recognised that watching someone on a dark stage twiddling knobs or mixing records isn't the most thrilling concert-going experience visually. Over the years electronic acts have deployed light shows, lasers and projected visuals to accompany and compliment the music in a live setting. This month in Subdetritus we look at bass music's dichotomous relationship with live visual stimulus and it's relationship with multimedia art at large.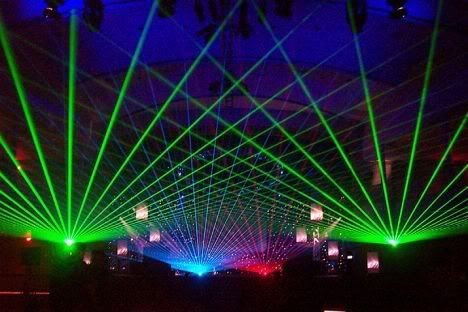 From the earliest days of rave culture back in the late-eighties, parties were something of a visual spectacle – ravers dressed in fluorescent colours, warehouse spaces decked-out in UV décor, strobes, lasers and all manner of mind-altering lighting displays. This wasn't necessarily the blueprint that all electronic music parties followed in subsequent years, particularly bass and sound system culture. Many drum'n'bass and dubstep parties were, and continue to be, very conscious of a certain "hoods up, heads down" mentality towards the music and how it should be enjoyed in a live setting. One of the most famous of the original dubstep parties – Mala, Loefah and Coki's mighty DMZ night in Brixton – would pride itself on being no more than a dark room with one sparse blue light and the mother of all sound systems. No flashy visuals or strobe lights, just: "Come meditate on bass weight".
This has been a staple of many bass gigs around the globe: spare no expense on the sound system and the rest should be simple and raw. It's a cry back to original Jamaican sound systems and a statement that the music itself should be the primary focus. It was an ethos that one-time smoked-out jazzy junglist turned innovative sound artist Amon Tobin employed on his 2007 tour of Europe supporting his album The Foley Room. "Fuck visuals," he was famously quoted as saying. "We're sinking every last penny into the sound system!" And from all accounts he wasn't fronting – the music was loud, bass-heavy, crystal clear, in your face and inescapable. Fast forward to the last few weeks, and Amon Tobin has just kicked off his latest tour in support of brand new album Isam. The album itself has received mixed reviews as Tobin continues to push his challenging sound manipulations into new and less familiar territory, but in an interesting flip, the live show he has assembled for this record could go down in history as one of the most unique multimedia performances of our time.
The first show of the tour was in Montreal on June 1st and is currently being staged in select cities across Europe. Videos have since been uploaded to www.amontobin.com of the performance and its design, and scores more have surfaced from fans on YouTube. Described in a press release as featuring a "stunning 25′ x 14′ x 8′ multi-dimensional/ shape shifting 3-D art installation surrounding Tobin and enveloping him and the audience in a beyond 3-D experience", the footage has to be seen to be believed. The marriage of his dense electronic compositions with such a jaw-dropping visual accompaniment is light years ahead of its time and makes his contemporaries who seek to offset the visual boredom of DJ sets by wearing giant mouse heads look frankly ridiculous. On top of all of this, Tobin teamed up with respected artist Tessa Farmer whose unique visual style based on reconstructions of organic material has been the centerpiece of an art installation that has been on display in galleries in London and Paris to coincide with the launch of the album.
Flying Lotus is another that has been pushing the visual element harder than most in terms of cover art, live performances, interactive web applications and film clips. There are plenty of others in bass music who are embracing other media in an attempt to compliment and enhance the sensory experience of their music, including crews here in Brisbane. The future looks bright and flashy in the murky world of bass.
 By Brad Swob
(Originally published in Time Off)
Categories: Articles, Swob | Tags: 2011, amon tobin, dmz, Flying Lotus, subdetritus, Time Off Magazine | Comments Off on Subdetritus ~ june 2011