August 26th, 2010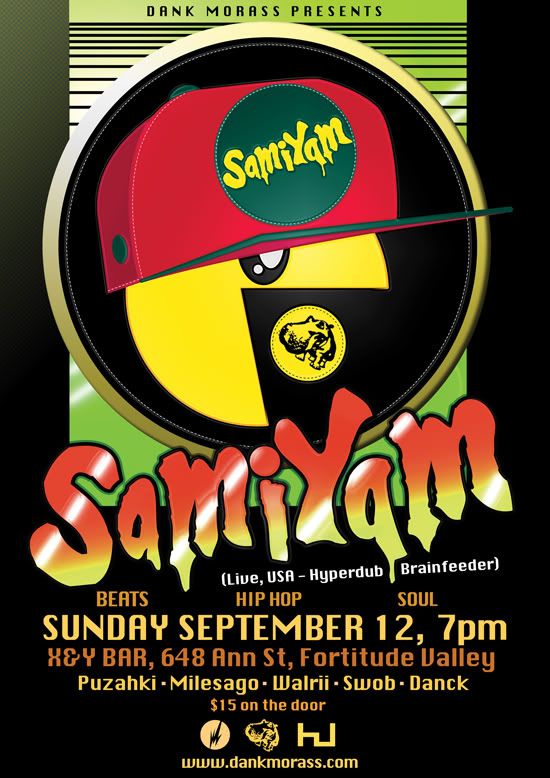 In the wake of the recent sonic assault of Ras_G and following The Gaslamp Killer earlier this year, Dank Morass presents the next artist from Flying Lotus' mighty Brainfeeder clique to reach Brisbane. From Los Angeles via Ann Arbor, Michigan, Samiyam is a lover of soul, beats, hip hop and donuts with sprinkles. He'll be bringing his live, fuzzed, future funk to the chilled surrounds of the Valley's x&y bar on Sunday September 12.
Samiyam's colourful and raw grooves reference soul, funk, 70s Italian horror flick soundtracks, Nintendo bonus level music, 90s hip hop and the current upsurge of bass music. These myriad influences have positioned Sam at the crucial intersection of underground hip hop beats and left-leaning, bass-centric electronica.
Samiyam's funk caught the ears and nose of Flying Lotus in 2005, resulting in the pair collaborating as FLYamSAM. This prompted Sam to move to LA where he became a regular collaborator and accelerator of the infamous LA beat scene and Brainfeeder massive.
Shortly, Sam's music came to the attention of Hyperdub label boss   Kode 9, who issued Sam's Return EP in 2009 and featured tracks on the trailblazing label's 2010 compilation. The demand for Sam increased exponentially and he made several trips to London and Europe to spread the love imbued in his sound
Samiyam is frequently repped by BBC1 tastemakers Mary-Anne Hobbs and Benji B, and was included in Thom Yorke's Top 10 on the Radiohead website earlier this year.
Despite the international acclaim, Samiyam remains true to his DYI ethos, hand drawing the covers of his releases and personally sending out copies of his breakthrough beat tape, Rap Beats Vol. 1. He's remixed the likes of Daedalus, Flying Lotus and 2562 and has both a solo LP and a FLYamSAM album finished and awaiting release on Brainfeeder.
Backing up these brainfeeding beats is a live set of beats from Brisbane's own Puzahki , bringing the crackle with tunes from his this years Candle Wax EP, a grip of moody tracks built from broken toys, discarded wax and field recordings.
The Morass is glad to finally present a DJ set from Milesago. Also known to the heads as seminal Brisbane MC and DJ LenOne (Brothers Stoney/Boney Stoney), Milesago will surprise with crates of classic funk and soul, and a keen eye for the newest beat experimentations.
Naturally, Dank Morass DJs Swob, Walrii and Danck drop the latest bass science to keep it all moving in one of Brisbane's best new venues.
Dank Morass presents SAMIYAM (Live – USA, Hyperdub/Brainfeeder)
When: 7pm til the break of dawn, Sunday 12 September
Where: x&y Bar, 648 Ann St, Fortitude Valley
Support: Puzahki, Milesago, Walrii, Swob, Danck
Cost: $15 on the door
……
Categories: Dank Morass, Events | Tags: brainfeeder, FLYamSAM, Flying Lotus, Milesago, Puzahki, samiyam