May 26th, 2010
After the mayhem of Gaslamp Killer's recent Brisbane appearance, Dank Morass are positively oscillating and ready to announce our next party featuring an all local line up of Brisbane bass producers and DJs, with live visuals courtesy of Dank Morass' projection wizards Archie Lancaster & ATLASt (big up on the flyer). Dank Side Of The Moon will bring together the cosmic sounds from some of our regulars as well as a few fresh faces to the Morass.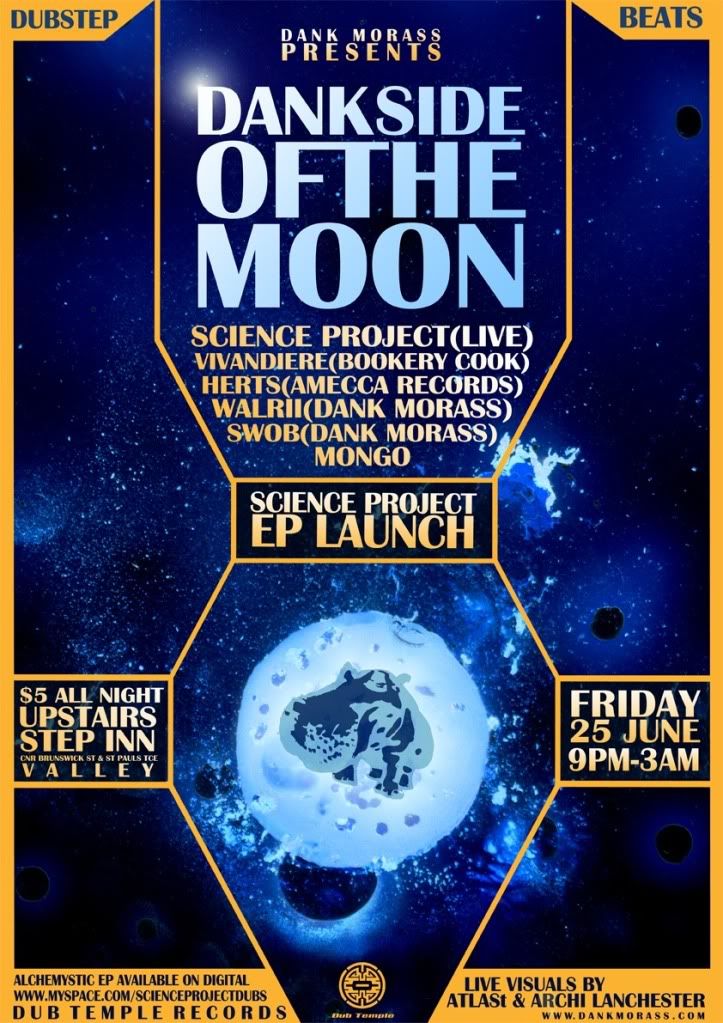 Science Project (aka 8man and Grimes) have been hard at work in the lab concocting, in their words, a "futuristic exploration of moods and rhythms of bass-heavy proportions". This all culminated a few months ago with the release of their new EP Alchemystic – available now on iTunes through Dub Tempo. Science Project's live show has rocked several Dank Morass and Scuba Tank parties to date including warming up for Starkey and more recently, Gaslamp Killer. Science Project will be bringing their electrified dubstep and bass explorations to life with a drum kit, an MPC, effects, and a set of 1s and 2s in celebration of the release of their EP.
Also on the line-up is Herts, the founder of brand new bass label Amecca Records, which has forthcoming releases from local and international producers such as Elroy 4.0, Shankles and Puzakhi. Herts will be pushing marinara deep beats from across the global spectrum of rhythms.
Vivandiere (representing the Bookery Cook collective) has a deep love of underground disco, funk and soul which shines through as a major influence in her refined electronic selections. She will be blessing ears with a rare DJ set at Dank Side. Another rare treat for Brisbane bass fiends will come in the form of a DJ set of hip hop and beats from Mongo – who used to make regular appearances at the mighty Rude Bwoyz drum 'n' bass nights.
And as always, making your blubber quiver will be the sinister beats, eclectic bass and soulful selections from the crates of Walrii and Swob of Dank Morass. The Walrus and Sgt. Swob will be holding down the fort while Danck is overseas on a mission to LA's Low End Theory and the Sonar Festival in Barcelona.
See you in front of the Bass-Bins!
Love,
DM
Categories: ATLASt, Dank Morass, Events | Tags: Herts, Science Project, Vivandiere