October 1st, 2009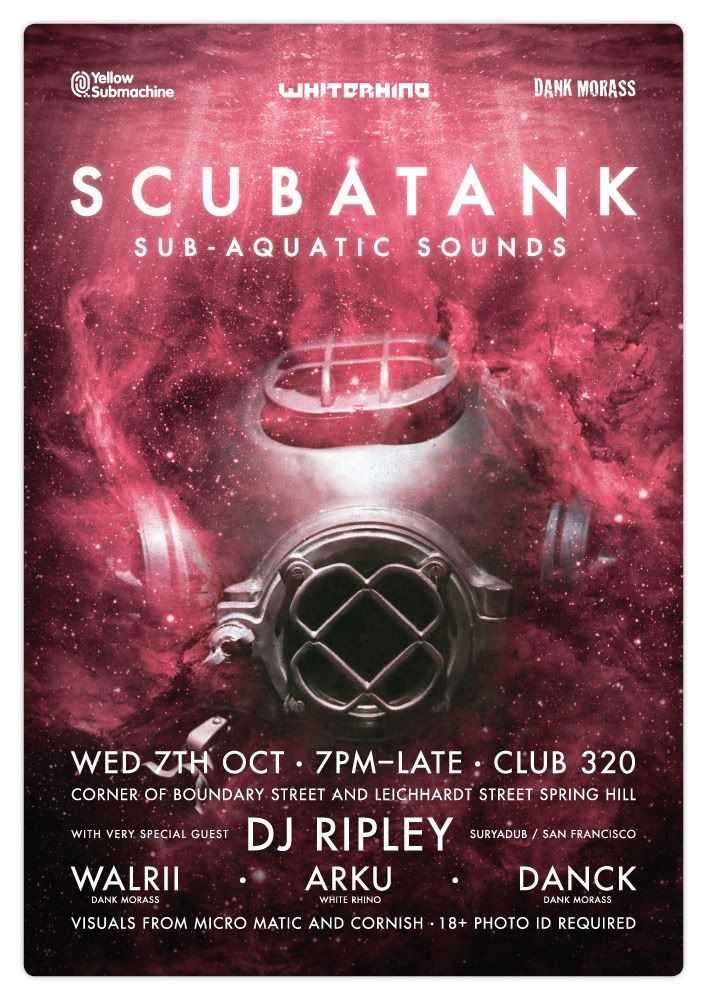 Once again, it's the time of month for submersion, with the October installment of SCUBA TANK. As usual, presented by Dank Morass and White Rhino crews, it will entail only the finest in progressive and soothing sounds. The Tank's new home at 320 in Spring Hill allows us to be liberal with sonics and free party vibes for all the people who appreciate it!
FREE as always this Wednesday October 7, SCUBA TANK will be boasting international steez from the one known as DJ Ripley. All the way from San Fransico, she digs deep to bring forth the unheard sounds and mixing skills to the Brisbane shores.
Dj Ripley has been tearing up dancefloors across North America and Europe for 12 years, in town squares, warehouses, ships, clubs, squats, community centers and activist spaces. Her genre-smashing sets build audiences into heaving monuments unified by dopeness. She has released mixes on the Death$ucker [http://www.deathsucker.org/] label, on Modyfier-modifying, on Spannered.org, Mashit.com, and on her own blog http://djripley.blogspot.com. She recently wrapped up 6 months living and working in Jamaica, where she was djing and researching copyright law and creative practice.
Along with this very special guest, the usual high quality selectors from Brisbane's own bowels will never fail to sort the masses out with healing music.
White Rhino's Arku and Dank Morass' Danck and Walrii will lovingly choose a forward thinking, internationally cutting edge selection of global bass music, roots and soul progressions.
Live visuals and ambience provided by good friends and fine artists Cornish and Micro Matic. They will be manipulating pixels like oreo cookie dough, sporadically seen in Brisbane.
Categories: Danck, Dank Morass, Events, Friends, Walrii | Tags: Arku, Dj Ripley, Scuba Tank, white rhino